AirPods Pro
Apple's Noise Cancelling AirPods
AirPods Pro
Apple in October 2019 launched the AirPods Pro, a higher-end version of its existing AirPods with a unique design, noise cancellation technology, better sound quality, and a more expensive $249 price tag.
Apple says that with the AirPods Pro, the company is taking the magic of the AirPods "even further," with the new earbuds to be sold alongside the more affordable AirPods 2, which do not feature noise cancellation functionality.
The AirPods Pro look similar to the original AirPods, but have a design with a wider front to accommodate silicone tips for comfort, fit, and noise cancellation purposes. Tips come in three sizes to fit different ears.
Though we heard rumors suggesting AirPods Pro might come in multiple colors, Apple is offering them only in white, much like the original AirPods.
Active Noise Cancellation is a key feature of the AirPods Pro, using two microphones (one outward facing and one inward facing) along with advanced software to adapt to each ear for what Apple says is a "uniquely customized, superior noise-canceling experience."
With a built-in Transparency mode that can be toggled on, users have the option to listen to music with Active Noise Cancellation turned on while still hearing the ambient environment around them.
Inside of the AirPods Pro, there's a new vent system aimed at equalizing pressure, which Apple says minimizes the discomfort common with other in-ear designs for a better fit and a more comfortable wearing experience.
Because of the new silicone tips, the AirPods Pro are larger than prior versions of the AirPods, necessitating a wider charging case. The new AirPods Pro case is longer in the horizontal dimension than the prior AirPods case, but still pocketable.
AirPods Pro are water-resistant with an IPX4 rating, which means they can hold up to splashing water regardless of the direction. This suggests AirPods Pro should be safe from sweat and light rain, but they shouldn't be submerged.
Apple says that AirPods Pro include an Adaptive EQ feature for superior sound quality. Adaptive EQ tunes the low and mid frequencies of the music to the shape of an individual's ear for a "rich, immersive listening experience."
Like the AirPods 2 and the Beats Solo Pro, the AirPods Pro are powered by an Apple-designed H1 chip. The H1 chip powers real-time noise cancellation, the Adaptive EQ feature, and hands-free "Hey Siri" support.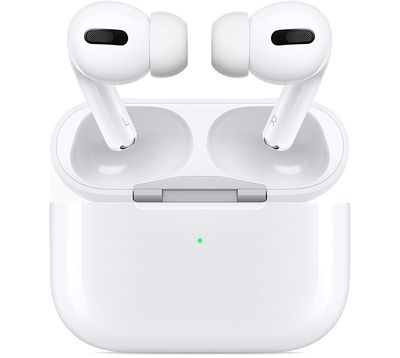 AirPods Pro provide up to five hours of listening time on a single charge with Active Noise Cancellation disabled, or four and a half hours when it's turned on. With Active Noise Cancellation, AirPods Pro also offer three and a half hours of talk time.
The AirPods Pro Wireless Charging Case supports Qi-based wireless charging and it can also be charged over Lightning (using the included USB-C to Lightning cable). The charging case offers more than 24 hours of additional listening time and over 18 hours of additional talk time.
AirPods Pro became available for purchase on October 28, 2019. AirPods Pro are priced at $249.
Apple routinely introduces new firmware updates for the AirPods Pro. The current firmware version is 4E71, an update that was introduced in May 2022.
Note: See an error in this roundup or want to offer feedback? Send us an email here.
Crackling Noise Repair Program
Apple launched a repair program for AirPods Pro to fix a problem that causes some AirPods Pro models to exhibit sound issues such as crackling or static or faulty Active Noise Cancellation. Customers who purchased AirPods Pro at launch in 2019 are covered until October 2022 should this issue arise, and those who bought in 2020 before the repaired version in October 2020 came out can get repairs until 2023.
Affected models have static or crackling sounds that increase in loud environments such as with movement or when talking on the phone, or Active Noise Cancellation that fails to work properly with a loss of bass, increased background sound, or a street or airplane noise.
The faulty AirPods Pro models were manufactured before October 2020, and those who are experiencing issues can take the AirPods Pro to Apple for service at no charge. AirPods Pro will be examined prior to service to verify that they're eligible for the program.
How to Buy
The AirPods Pro can be purchased from the online Apple Store or Apple retail stores for $249. Third-party retailers also offer the AirPods Pro and sometimes provide discounts.
AppleCare+ can be purchased for the AirPods Pro for $29, covering two incidents of accidental damage for a $29 fee.
When purchasing, AirPods Charging Cases can be engraved with Apple allowing either text characters or an emoji to be added.
On its website, Apple offers AirPods Pro replacement tips in sets of two small, medium, or large ear tips for $7.99 each in the United States.
For those who don't like Apple's own tips, there are a few companies making foam tips, like Comply.
Design Details
AirPods Pro feature the same general design language as the original AirPods, but are notably different thanks to new flexible silicone tips that are designed to fit tightly within the ear to allow for noise cancellation technology.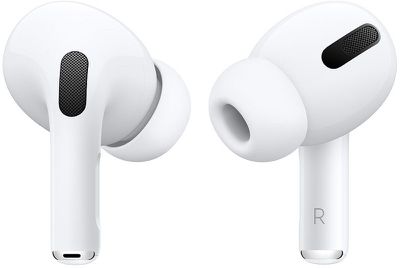 The silicone tips come in three sizes to ensure a comfortable fit in most ears. Apple says the tips have been designed to conform to the contours of each individual ear, offering both comfort and a better seal, which is important for noise cancellation.
The tips come in small, medium, and large, and each tip clicks right into place on the AirPods Pro, making them easy to swap out. Each tip is internally tapered to conform to the shape of the inner ear to keep the AirPods Pro securely in place.
AirPods Pro measure in at 21.8mm wide and 30.9mm tall, so they're wider than the original AirPods (which are 16.5mm) but they're not as tall (AirPods are 40.5mm tall) as the stems are shorter.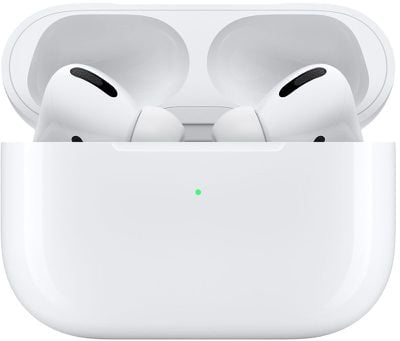 Because the AirPods Pro are wider than the AirPods, the Wireless Charging Case that comes with the AirPods Pro is also bigger. It measures in at 60.6mm wide, 45.2mm tall, and 21.7mm thick. Comparatively, the AirPods case is 44.3mm wide, 53.5mm tall, and 21.3mm thick.
The AirPods Pro are a third heavier than the standard AirPods, weighing in at 5.4 grams per earbud. The charging case also weighs in at 45.6 grams, up from 38 grams.
The AirPods Pro case is a good bit wider than the AirPods case, but it's also not quite as tall, so the dimensions and pocketability are ultimately similar between the two cases.
AirPods Pro have been developed with what Apple is calling an "innovative vent system" that equalizes pressure within the ear to minimize discomfort that's common in other in-ear designs. Apple says that AirPods Pro are designed to make you feel like there's nothing in your ears.
There's also an expanded mesh microphone port that's designed to improve call clarity in windy situations.
Ear Tip Fit Test
To get the perfect fit and best audio experience, Apple offers an Ear Tip Fit Test for the AirPods Pro. After placing the AirPods Pro in each ear, Apple uses advanced algorithms and the microphones in each AirPod to measure the sound level in the ear and compare it to what's coming from the speaker driver.
The algorithm then detects whether the ear tip is the right size and has a good fit, or if it should be swapped out for another size to create a better seal.
Replacement tips for the AirPods Pro are available if you contact Apple support and are priced at $4 for a pair. AirPods Pro owners who have purchased AppleCare+ appear to be able to get free replacement tips.
Water Resistance
AirPods Pro are sweat and water resistant with an IPX4 water resistance rating. That means the AirPods Pro have been tested and can hold up to splashing water from any direction, so they should hold up well to sweat and light rain.
AirPods Pro should not be submerged in water and water exposure should be avoided as often as possible as Apple's warranty does not cover water or sweat damage.
Apple says that the sweat and water resistant ratings are for non-water sports and exercise, and that sweat and water resistance are not permanent conditions and could decrease as a result of normal wear.
Active Noise Cancellation
AirPods Pro were Apple's first in-ear earbuds that feature Active Noise Cancellation technology, but Apple previously used ANC in its on-ear Beats headphones and has since added ANC to the AirPods Max.
Active Noise Cancellation leverages two microphones and Apple's advanced software algorithms to adapt sound to each individual's ear.
One microphone is outward-facing and is designed to detect external sound to allow the AirPods Pro to analyze environmental noise. There's a second inward-facing microphone that listens to sound towards the ear.
The first microphone lets the AirPods Pro counter external sound with anti-noise that cancels out background noise before it reaches the ear, while the second microphone fine-tunes the noise cancellation by detecting any remaining noise. Apple says that the noise cancellation feature continuously adapts the sound signal 200 times per second.
Transparency Mode
Apple included a Transparency mode option that lets users who are worried about Active Noise Cancellation drowning out sound listen to the environment around them.
Transparency mode takes advantage of the vent system in the AirPods Pro to tone down the Active Noise Cancellation so AirPods Pro owners can listen for traffic, hear train announcements, and more while continuing to listen to music, podcasts, and more.
Active Noise Cancellation and Transparency modes can be activated directly on the AirPods Pro or by pressing on the volume slider in the Control Center on iPhone or iPad to get to the Control Center settings.
Activating Transparency mode can be done by pressing and holding on the Force Sensor on the AirPods Pro stem, which swaps between Transparency mode and Active Noise Cancellation.
Sound Quality
According to Apple, AirPods Pro deliver superior sound than the original AirPods thanks to built-in speaker technology and Adaptive EQ functionality. Adaptive EQ tunes the low- and mid-frequencies of music that's playing to the shape of each person's ear, for what Apple says is a rich, immersive listening experience.
Inside of the AirPods, there's a custom high dynamic range amplifier to produce pure, clear sound, along with a custom high-excursion low-distortion speaker driver that optimizes audio quality and removes background noise. The driver offers up rich bass down to 20Hz along with detailed mid and high-frequency audio.
Based on testing of the time that it takes for a user to trigger a sound and when it's heard in the earbuds, the AirPods Pro have improved Bluetooth latency compared to other wireless headphones on the market, including the original AirPods and the AirPods 2.
Spatial Audio
In June 2021, Apple added Spatial Audio with Dolby Atmos feature to Apple Music, which allows AirPods Pro owners to listen to specially designed Spatial Audio tracks.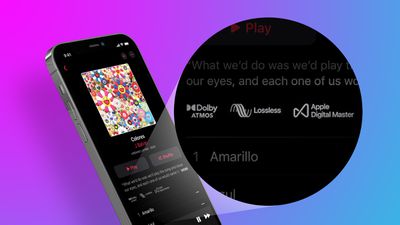 Spatial Audio with Dolby Atmos is designed to provide an immersive, multi-dimensional audio experience that allows artists to mix music in a way that makes it sound like the notes are coming from all around you.
Spatial audio applies directional audio filters and subtly adjusts the frequencies that each ear receives to place sounds virtually anywhere in space for an immersive listening experience. The feature uses sensors in the AirPods Pro along with sensors in the iPhone or iPad to track the motion of a person's head as well as the position of their device, comparing the motion data and remapping the sound field so that it stays anchored to the device even as the head moves.
Apple Music automatically plays Dolby Atmos tracks on all AirPods and Beats headphones with an H1 or W1 chip, as do the built-in speakers of the newest iPhones, iPads, and Macs, plus the HomePod.
Studios are adding new Dolby Atmos tracks to Apple Music on a regular basis, and Apple offers a curated selection of Dolby Atmos playlists. At launch, there were thousands of Spatial Audio songs available across a wide range of genres.
Spatial Audio also works with the Apple TV app and third-party apps, providing a movie theater listening experience on the AirPods Pro.
Apple Music Lossless Audio
There's also a new lossless audio feature for Apple Music, but this is not compatible with the AirPods Pro or any headphones that rely on Bluetooth connectivity.
H1 Chip and Internals
The AirPods Pro use the same 10-core H1 chip that's in the second-generation AirPods and the Beats Solo Pro. Apple says that the System in Package design of the chip is "meticulously arranged" with the placement of each component based on the form of the human ear for superior comfort, fit, and stability.
The H1 chip powers Active Noise Cancellation and Adaptive EQ, and supports hands-free "Hey Siri" requests.
As with the AirPods, AirPods Pro connect automatically to your iPhone or Apple device, with the H1 chip also enabling fast switching between your Apple devices thanks to iCloud. AirPods can automatically switch between iPhone, iPad, Mac, and Apple Watch as you use them with no need to access Bluetooth controls to swap devices.
AirPods Pro also work with Audio Sharing, which lets multiple AirPods or Beats headphones connect to a single iOS device so more than one person can listen to the same music, watch the same movie, and more.
Audio Sharing is limited to the iPhone 8 and later, the iPad Air and later, the 5th-generation iPad and later, the 5th-generation iPad mini, all iPad Pro models, and the 7th-generation iPod touch.
There are dual optical sensors, the aforementioned microphones (dual beamforming and one inward-facing microphone), a motion-detecting accelerometer, and a speech-detecting accelerometer, all of which power features like "Hey Siri" detection, pausing music when the AirPods are removed from the ears, and more.
AirPods Pro use Bluetooth 5.0 technology to connect to Apple devices.
AirPods Pro Motion API
As of iOS 14, there is a Motion API that lets developers access orientation, user acceleration, and rotational rates for the AirPods Pro, which can be used in fitness apps, games, and more.
Force Sensor
There's a new Force Sensor on the stem of the AirPods Pro that supports different gestures, with a list of options below:
Press once to play or pause music
Press once when a call is incoming to answer the call
Press twice to skip forward on a track
Press three times to skip back on a track
Press and hold to switch between Active Noise Cancellation and Transparency mode
For options like placing a call, playing a specific song, getting directions, sending messages, and more, Siri voice commands can be used.
Battery Life
The AirPods Pro last for up to five hours like the AirPods, but only when Active Noise Cancellation is disabled. In Active Noise Cancellation mode, the AirPods Pro offer four and a half hours of listening time and up to three and a half hours of talk time on a single charge.
There's a 1.98Wh watch-style button cell battery located inside of each AirPod, which is not replaceable as it is connected to a soldered cable.
The Wireless Charging Case offers more than 24 hours of listening time and over 18 hours of talk time. There's a fast charging feature that provides one hour of listening time or about an hour of talk time after five minutes of charging.
Charging the Wireless Charging Case can be done using a Qi-based wireless charging mat or through the included Lightning port. Apple ships the AirPods Pro with a Lightning to USB-C cable for faster charging.
Battery notifications, added in iOS 14, let you know if you need to charge your AirPods Pro so you can keep them topped up at all times. Apple has also introduced Battery Health features for AirPods, which preserves the battery longevity by limiting the amount of time the AirPods Pro spend at 100 percent battery level when charging.
Headphone Accommodations
Added in iOS 14, Headphone Accommodations is a new accessibility option that can amplify soft sounds and adjust certain frequencies for an individual's hearing to make music, movies, phone calls, and podcasts sound more crisp and clear with AirPods Pro.
Headphone Accommodations in the AirPods Pro works with Transparency mode to make quiet voices more audible and tuning the sounds of the environment to each individual's hearing needs.
Conversation Boost
Via a firmware update, Apple added Conversation Boost to the AirPods Pro. Conversation boost is designed to help people with mild hearing challenges stay more connected in conversations. The feature uses the AirPods Pro's beam-forming microphones to boost the volume of a person talking in front of you, making it easier to listen to a face-to-face conversation, and there is also an option to reduce ambient noise.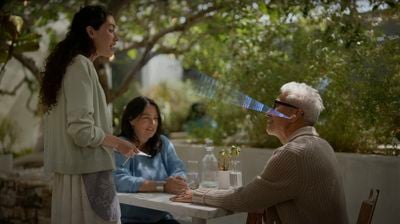 Find My
AirPods Pro can be tracked in the Find My app, and with iOS 15, can be located using Apple's Find My Network.
This integration lets the AirPods Pro be located even when they're out of Bluetooth range by pinging the Apple devices of people located near them, so you can locate a lost set of AirPods much further away.
Software Requirements
AirPods Pro require Apple devices running iOS 13.2 or later, iPadOS 13.2 or later, watchOS 6.1 or later, tvOS 13.2 or later, or macOS Catalina 10.15.1 or later.
AirPods Pro How Tos and Guides
Original AirPods
Apple continues to sell its second-generatin and third-generation AirPods. The second-generation AirPods are available for $129, while the third-generation AirPods are available for $179.
AirPods vs. AirPods Pro
Compared to the standard third-generation AirPods, the AirPods Pro feature a higher price tag, a different design with silicone ear tips and active noise cancellation.
AirPods Pro vs. Powerbeats Pro
We also have a dedicated comparison guide that looks at the differences between the AirPods Pro and the Powerbeats Pro.
Compared to the Powerbeats Pro, the AirPods Pro offer Active Noise Cancellation and a slimmer design, while the Powerbeats Pro offer longer battery life and earhooks to better keep them in place during vigorous activity.
What's Next for the AirPods Pro
Apple is working on a second-generation version of the AirPods Pro that is expected to feature a new wireless chip with improved performance, better audio quality, and some rumors suggest heart rate and temperature sensing, though other rumors say that won't happen.
There were rumors that Apple was considering a stemless design for the AirPods Pro 2, but recent information has suggested the next-generation AirPods Pro will have a design similar to the original AirPods Pro and the AirPods 3. Lossless audio support is a possibility, and the new AirPods Pro are expected to include enhanced Find My technology that allows them to play a sound.
Bloomberg expects the second-generation AirPods to launch in 2022, as does Apple analyst Ming-Chi Kuo, and the earbuds are likely to come out in the in the fall alongside new iPhones.
A future version of the AirPods Pro could include a USB-C connector instead of a Lightning connector, as Apple is rumored to be planning to introduce iPhone 15 models with a USB-C port instead of a Lightning port in 2023 to comply with new regulations being introduced in Europe. The 2022 AirPods Pro will continue to use a Lightning port, however.
For more on what to expect from the AirPods Pro 2, we have a dedicated guide with details on all of the rumors that we've heard so far.