Apple Watch SE
Apple's lower-cost Apple Watch, available now.
Should You Buy an Apple Watch SE?
The Apple Watch SE is one of Apple's more affordable smartwatches, offering the S5 chip, an optical heart rate sensor, an always-on altimeter, and fall detection, at a price of $279. Announced in September of 2020, the Apple Watch SE is now over a year old. Since there has not been an Apple Watch SE before, it is difficult to ascertain exactly how far through its product cycle it may be.
Apple's line of iPhone SE models waited several years for a second-generation model, which may suggest that the company prefers to update "SE" products less frequently than flagship devices. It should be noted that the Apple Watch Series 7, Apple's flagship smartwatch, was announced in September 2021. There are early signs of a second-generation Apple Watch SE model with a number of upgrades and improvements in the works and it is likely under a year away. This means that now is still be a good time to buy an Apple Watch SE, but some prospective customers may prefer to wait until a new model arrives in the fall.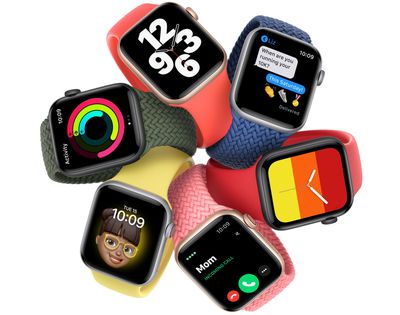 While the Apple Watch SE is a solid all-round Apple Watch option for those who want a good mix of functionality and affordability, users who are interested in expanded health features, such as blood oxygen monitoring and ECG, an always-on display, or more premium finishes, should consider the Apple Watch Series 7, which starts from $399.
On the other hand, if price is your main concern and you don't need advanced health functions, the Apple Watch Series 3 may be more appropriate than the $279 Apple Watch SE as it offers many of the Apple Watch's core features for just $199. It is important to note that there are some tradeoffs with the Apple Watch Series 3 since it is a much older model, such as a smaller display, an older chipset, and the lack of a compass, fall detection, or noise monitoring.
What's Next for the Apple Watch SE?
Apple is developing a new version of the Apple Watch SE, which is expected to see a launch in 2022 alongside the Apple Watch Series 8 and a new rugged version of the Apple Watch. There's no word on what new features the new SE might include, but it is likely to feature an upgraded processor and perhaps an always-on display, which has been an option for the main Apple Watch line since the Series 6.
Apple Watch Series SE
Alongside the Apple Watch Series 6, Apple in September 2020 introduced a new lower-cost Apple Watch SE for those who are looking for a more affordable, fitness-focused Apple Watch option that has all of the essential Apple Watch functionality at a lower price point.
The Apple Watch SE is almost identical to the Series 6, but it does not have ECG or blood oxygen functionality, as those health features require hardware components that Apple did not include in the Apple Watch SE in order to keep costs down.
When it comes to design and features, the Apple Watch SE is something of a mix between the Series 4, Series 5, and Series 6 models. The Apple Watch SE is available in 40 and 44mm size options, and it has the same thinner, smaller case introduced in the Series 4.
All Apple Watch SE models are aluminum and this model can't be purchased with a stainless steel or titanium casing. Casing colors include silver, gold, and space gray, with the Midnight, Starlight, Green, Blue, and (PRODUCT)RED aluminum options being limited to the Apple Watch Series 7, but there are Nike models with Nike bands.
The Apple Watch SE has a Retina LTPO OLED display with 1000 nits brightness, but it does not have the same Always-On functionality that is available with the Apple Watch Series 7.
There's a black ceramic and sapphire crystal backing with built-in sensors, a Haptic Digital Crown for navigating through the operating system, and Ion-X glass protects the display. It has the same speaker and microphone as the Series 6, which are optimized for phone calls, Siri, and Walkie-Talkie.
The Apple Watch SE is water resistant to 50 meters and supports Apple Pay with skin authentication much like prior models, and though it lacks ECG and blood oxygen monitoring, it has the same optical heart rate sensor, gyroscope, and accelerometer so it can monitor steps taken, calories burned, stairs climbed, and check heart rate, plus it can track sleep, look out for falls with fall detection, make emergency calls with SOS, check orientation with the compass, and watch out for overly loud sounds with sound detection features.
Apple sells both LTE + GPS and GPS only Apple Watch SE models, so there is an option to use the new low-cost Apple Watch with cellular plans. Since it supports LTE, it can be used with Family Setup, the Apple Watch feature that Apple introduced alongside the new Apple Watch models.
Family Setup allows multiple Apple Watches to be paired and managed by a single iPhone, so a family member without an iPhone can use an Apple Watch. Apple envisions this feature being used for children and elderly adults who need assistance.
Instead of the S7 System-in-Package that powers the Series 7, the Apple Watch SE is equipped with the same S5 System-in-Package that was used in the Series 5. It's not as fast as the S7 chip, but it's two times faster than the chip in the Series 3, which is the other low-cost model. The Apple Watch SE and Series 7 offer the same 18-hour battery life, but the Apple Watch Series 7 can charge much faster with just eight minutes of charging providing up to eight hours of sleep tracking time.
Bluetooth 5.0 is supported and there's a W3 wireless chip, but the Apple Watch SE does not have the U1 Ultra Wideband chip from the Series 6 and the Series 7. It only supports 2.4GHz WiFi while the Series 7 supports both 2.4GHz and 5GHz WiFi networks.
The Apple Watch SE is priced at $279 for the 40mm model and $309 for the 44mm model.
Note: See an error in this roundup or want to offer feedback? Send us an email here.
How to Buy
Apple is selling the Apple Watch SE in the online Apple Store and in its retail store locations. Third-party sellers also have the watch available, sometimes at discounted prices, and Apple also offers refurbished models at a reduced cost. Pricing starts at $279, and only lower-cost aluminum models are available.
Issues
Some Apple Watch Series 5 and SE models have experienced a bug that can cause them not to charge after entering Power Reserve mode. This was fixed in watchOS 7.3.1, but Apple Watch owners who have already experienced this problem will need to contact Apple for a free Apple Watch repair.
Reviews
Early first impressions of the Apple Watch SE praised the affordable price and feature set that's similar to the higher-end Apple Watch Series 6. Reviewers believe the Apple Watch SE is a good value for the money for those who do not need the ECG and blood oxygen monitoring features.
Healthy people who do not have a heart condition and are not at an at-risk age for conditions like atrial fibrillation may not need the advanced health tracking.
"You're not giving up as much as you might think" with the Apple Watch SE, wrote Gizmodo's Victoria Song.
Though the Series 7 has a faster S7 chip, the S5 was described as better than fast enough, and battery life was more than adequate. All in all, the Apple Watch SE was seen as "surprisingly similar" to the Apple Watch Series 6, and it's a solid choice for those looking for a deal. Check out our review roundup for more review details.
Design and Display
The Apple Watch Series SE casing looks identical to the Apple Watch Series 6, featuring slim-bezeled displays in 40 and 44mm size options to fit a variety of different wrists.
It measures in at 10.7mm thick and it continues to feature the same square-shaped design that Apple has used since the Apple Watch launched in 2015. With no design changes to the case, the Apple Watch SE works with all previous-generation Apple Watch band options.
Apple's 40mm models measure in at 40mm high and 34mm wide, while the 44mm models are 44mm high and 38mm wide. The 40mm models weigh in at 30.5 grams and the 44mm models weigh in at 36.5 grams.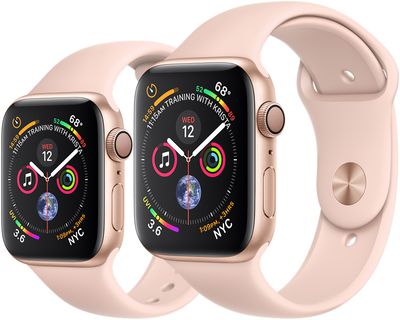 All Apple Watch SE models are made from 100 percent recycled 7000 series aluminum, which is lightweight, inexpensive, and designed for an active lifestyle. The Apple Watch SE models are available in silver, space gray, or gold aluminum.
The Apple Watch SE features a black ceramic and crystal back that houses an optical heart rate sensor to enable the heart rate detection features.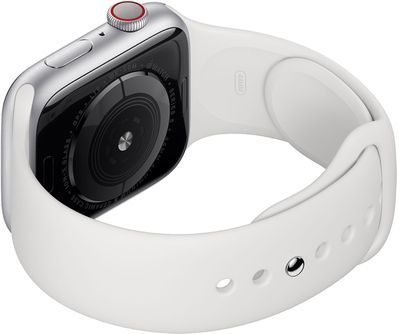 A Digital Crown on the side of the Apple Watch is available for navigation purposes, and there's a Side Button that's used to bring up frequently used apps, access emergency services, confirm Apple Pay purchases, and more.
The Digital Crown is equipped with haptic feedback that offers a precise, mechanical feel when scrolling through lists and controlling various aspects of the Apple Watch. The Digital Crown looks different depending on the Apple Watch model you purchase. LTE models have a red ring around the Digital Crown so you know that they have LTE functionality, while GPS-only models lack the red ring.
The Apple Watch Series SE offers many of the same display specifications as the Series 6 with the exception of Always-On functionality. It features 1000 nits brightness and Ion-X glass to protect it from scratches.
The 40mm Apple Watch Series 6 features a resolution of 324 x 394 pixels, while the larger 44mm Apple Watch Series has a resolution of 368 x 448. This translates to a 759 mm² display area for the 40mm Apple Watch and a 977 mm² display area for the 44mm Apple Watch.
Water Resistance
Apple Watch SE models are rated for immersion in water as deep as 50 meters thanks to seals and adhesives. The speaker, which needs air to produce sound, is the only point of ingress and has been designed to expel water from itself using sound vibrations after exposure to moisture.
Because it is rated for 50m immersion, the Apple Watch can be used when swimming in the ocean or in a pool. It is only suited to shallow water activities, though, and can't be used for scuba diving, waterskiing, showering, or other activities that involve high-velocity water or deep submersion.
Apple's Apple Watch warranty does not cover water damage, so it is best to use caution when exposing the watch to water.
S5 Chip
There's a dual-core S5 System-in-Package (SiP) in the Apple Watch SE, which is the same chip that Apple used in the Apple Watch Series 5. Apple says that the S5 is two times faster than the Apple Watch Series 3, which is Apple's other low-cost Apple Watch option.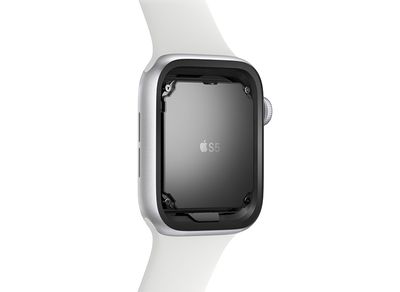 Health Features
The Apple Watch SE offers many of the same health features as the Apple Watch Series 7, but it is notably lacking a blood oxygen sensor and the capability to take an ECG reading.
There is a second-generation optical heart rate sensor that calculates metrics like calorie burn, activity level, heart rate, and more.
The Apple Watch can detect a low heart rate, a high heart rate, and an abnormal heart rate, monitoring for health problems like atrial fibrillation and sending notifications when anomalies are detected.
A built-in accelerometer and gyroscope enable other important health-related features such as fall detection, and the LTE models support international SOS capabilities so you can call emergency services no matter where you are.
Sleep Tracking
With watchOS 7, the Apple Watch SE can be worn at night to monitor your sleep, with Apple providing data on how long you sleep each night. The feature also offers up useful tools for getting a better night's sleep, with details available in our Sleep Tracking guide.
Sleep tracking is available on older Apple Watch models as well, as it is enabled through software rather than hardware, but the SE brings better battery efficiency and faster charging so you can charge your Apple Watch quicker in the morning after a night's sleep.
Battery Life
The Apple Watch SE offers all-day battery life of up to 18 hours. Apple bases "all-day" battery life on 90 time checks, 90 notifications, 45 minutes of app use, and a 60-minute workout with music playback via Bluetooth. For LTE models, Apple assumes four hours of LTE connection and 14 hours of connection to an iPhone.
In some situations the Apple Watch drains faster, such as when using the device as a phone or when doing a workout. Here are Apple's battery life estimates for each activity:
Audio playback from storage - Up to 10 hours

Streaming audio over LTE - Up to 7 hours

Family Setup Battery Life - Up to 14 hours

LTE talk time - Up to 1.5 hours

Indoor workout - Up to 10 hours

Outdoor workout (GPS) - Up to 6 hours

Outdoor workout (GPS + LTE) - Up to 5 hours
Apple says it takes 1.5 hours to charge the Apple Watch from 0 percent to 80 percent, and 2.5 hours to charge it all the way to full from 0 percent.
As of September 2021, Apple began including a USB-C charging cable with the Apple Watch SE, rather than a USB-A cable.
Connectivity
Apple Watch SE models are equipped with the same Apple-designed W3 chip that is available in the Series 7. There are two Apple Watch SE configurationsL GPS and GPS + Cellular. The GPS + Cellular SE models have an LTE connection while the GPS only models do not.
LTE
LTE connectivity has been available since the Apple Watch Series 3, and with an LTE connection, the Apple Watch is untethered from the iPhone and does not require an iPhone or known WiFi network for an internet connection.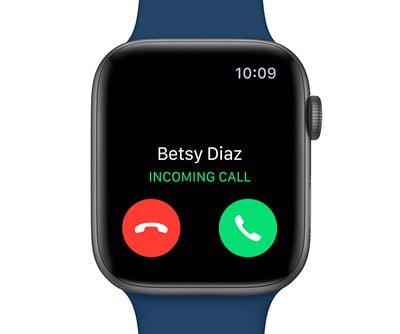 The Apple Watch is not entirely independent from the iPhone, though, because LTE connectivity through a carrier requires an Apple Watch and an iPhone 6s or later to share a cellular plan with the same carrier. The Apple Watch also does not have the battery capacity to be used full time without an iPhone nearby.
Apple Watch LTE models are available in many countries around the world, with a full list on Apple's website.
Emergency SOS
LTE connectivity enables an international Emergency SOS feature that was first released with the Series 5. With Emergency SOS, the Apple Watch can make international calls to emergency services regardless of where the device was originally purchased or if there's an active cellular plan.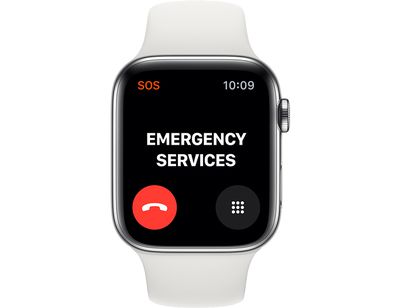 That means if you're traveling to another country and are injured or in a situation where you need help, you can activate the SOS feature on the Apple Watch by holding down the Side button to automatically get in touch with that country's emergency services.
International emergency calling works with the Apple Watch's fall detection feature, so if that's enabled, it automatically places an emergency call if the watch senses the user has taken a hard fall and remains motionless afterward.
WiFi, Bluetooth, and GPS
Apple Watch SE supports 2.4GHz 802.11b/g/n Wi-Fi and Bluetooth 5.0. Bluetooth 5.0 offers longer range, faster speeds, larger broadcast message capacity, and better interoperability with other wireless technologies.
GPS has been included in the Apple Watch since the Series 2, and all Series 5 models, LTE and non-LTE, feature a GPS chip that allows the Apple Watch to determine its position without needing to be near an iPhone.
With GPS, the Apple Watch is able to keep tabs on speed, distance, and route when you're walking, running, hiking, or biking, providing more insight into your fitness activities. GPS, GLONASS, Galileo, and QZSS systems are supported for positioning technology across multiple countries.
Other Features
Unlocking Face ID iPhones With Apple Watch
The iOS 14.5 and watchOS 7.4 updates introduced an "Unlock with Apple Watch" feature that's designed to allow an iPhone with Face ID to use an unlocked and authenticated Apple Watch as a secondary authentication measure when a mask is worn.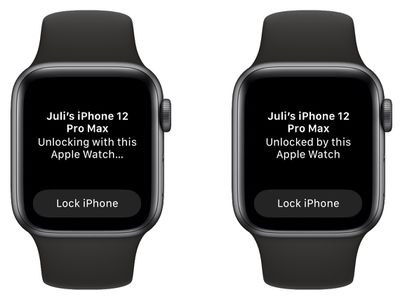 Face ID is not able to work when a person is wearing a mask, so the Apple Watch authentication method prevents iPhone users from having to constantly enter a passcode when wearing a mask. It's similar to the Apple Watch unlocking feature on the Mac and can be enabled in the Settings app under Face ID & Passcode.
An unlocked Apple Watch paired with Face ID can unlock the iPhone when a mask is worn, but it's only for mask usage. The Apple Watch cannot be used to authenticate Apple Pay or App Store purchases, nor can it be used to unlock apps that require a Face ID scan. In these situations, the mask needs to be removed or a passcode/password needs to be used instead.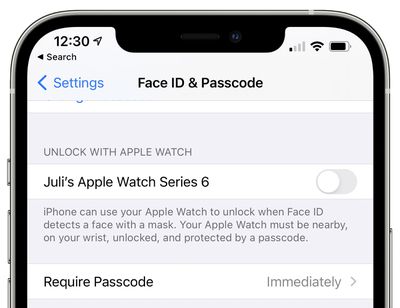 When the Apple Watch unlocks the iPhone, you'll feel a haptic tap on the wrist and will receive a notification on the watch, much like how it works when using the watch to unlock a Mac. Unlock with Apple Watch debuted with the iOS 14.5 and watchOS 7.4 updates.
Sensors
The Apple Watch SE includes an optical heart rate sensor, a next-generation accelerometer, a gyroscope, an ambient light sensor, and a barometric altimeter to track flights of stairs climbed, elevation gains when climbing, and more. Note that the altimeter can be inaccurate in some weather conditions.
Compass
Apple Watch SE models are equipped with a built-in compass feature and a Compass app that allows users to see their heading, incline, latitude, longitude, and current elevation.
Compass functionality is baked into the Maps app to let users see which way they're facing when getting directions, and there are three new Compass complications for Apple Watch faces.
Storage Space
All Apple Watch SE models, GPS and LTE, feature 32GB of storage space for music and apps, up from 16GB in previous models.
watchOS 8
Apple Watch runs an operating system called watchOS, and the Apple Watch Series 7 comes with watchOS 8 installed. The watchOS 8 update introduces new features to help users stay healthy, active, and connected to friends and family, with most of the new additions serving as extensions of changes added in iOS 15.
There are several improvements to Wallet, including Ultra Wideband support for digital car keys, and new digital keys for unlocking doors at home, the office, and hotel rooms. All of these new key features work with the Apple Watch's tap to unlock feature. In some states, users will be able to add their driver's license or state ID to Wallet, and select TSA checkpoints will begin accepting digital IDs.
The Home app has been overhauled to make it easier to get to HomeKit accessories and scenes as needed, with status updates for thermostats, light bulbs, and other accessories. HomeKit devices can be controlled by room, and those with HomeKit-enabled cameras can now see who is at the door right on the wrist. For Intercom users, there's a quick tap feature for getting in touch with everyone in the home.
Apple has added two new workout types with Tai Chi and Pilates, which can be selected when choosing a Workout on the Apple Watch. For Apple Fitness+ users, there's Picture in Picture support, filter options, and options to stop and resume an in-progress workout on any device.
The Breathe app is now the Mindfulness app and it has been enhanced with a new Breathe experience and a Reflect session for mindful intention. Reflect gives users a thoughtful notion to consider that invites a positive frame of mind. The Breathe and Reflect experiences offer new animations and a series of tips on meditation.
When sleeping, the Apple Watch now measures respiratory rate (the number of breaths per minute) in addition to time asleep, heart rate, and blood oxygen. Respiratory data can be viewed in the Health app and is a metric that can be used to track overall wellness.
There's a new Portrait Watch Face that pulls portrait photos from the iPhone and uses the depth data to overlay the time with the faces of your favorite people, and the Photos app has been redesigned with new ways to view and navigate collections. Memories and Featured Photos sync to Apple Watch and can be shared right from the wrist.
Apple added a dedicated Find Items app for locating your lost devices, and the Music app has been redesigned to let users share songs, albums, and playlists. The Apple Watch weather app supports Severe Weather notifications, next hour precipitation alerts, and updated complications.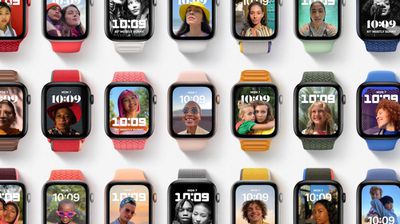 In the Messages app, Scribble, dictation, and emojis can be combined within the same message, and there's a new option to edit dictated text. The Apple Watch supports sending GIFs in Messages with watchOS 8, and there's now a Contacts app to make it easier to get in touch with people when an iPhone isn't available.
The Focus feature added to iOS 15 also syncs to the Apple Watch so you can reduce distraction and be in the moment to focus on the task at hand. Apple also suggests Focus modes, so if you're working out, you'll be prompted to choose the Focus for fitness option.
watchOS 8 introduces support for multiple timers at once, and more apps support the Always-On display, including Maps, Mindfulness, Now Playing, Phone, Podcasts, Stopwatch, Timers, and Voice Memos, plus third-party developers can create Always-On display experiences for their apps.
Apple has added an AssistiveTouch feature that uses the built-in sensors in the Apple Watch to detect hand gestures for control purposes.
There are many more new features included in watchOS 8, so make sure to check out our full watchOS 8 roundup for more details.
Apple Watch Series 7
Apple is selling the Apple Watch SE alongside the higher-end flagship Apple Watch Series 7. The Apple Watch Series 7 is more expensive, starting at $399 instead of $279, and it has health features that are missing from the Apple Watch SE.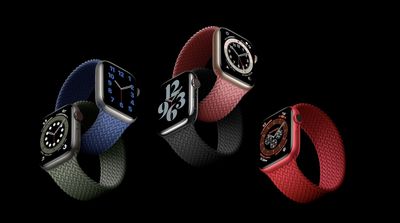 The Series 7 can take ECG readings using the Digital Crown and the sensors at the bottom of the Apple Watch and it can measure the level of oxygen in the blood. Both of these features can be useful in medical emergencies as they can detect heart issues like atrial fibrillation along with other potential problems that need immediate medical attention.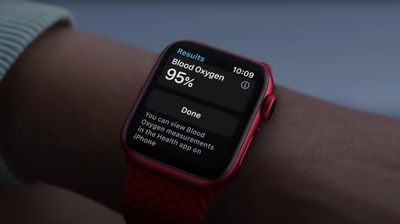 Compared to the SE, the Series 7 also has an Always-On display, larger casings and display sizes, stainless steel and titanium casing options, a range of different color options, a faster S7 System-in-Package, faster charging, improved durability, and 5GHz WiFi support.

We have some comparisons between the different Apple Watch models below that are worth checking out if you're planning a purchase and need help deciding between the Apple Watch SE, the Apple Watch Series 7, and the Apple Watch Series 3.
For more detail on the Apple Watch Series 7 as well as a deeper look at the different band options that Apple offers for Apple Watch, make sure to check out our Apple Watch Series 7 roundup, which has additional details on Apple Watch features.
Apple Watch SE Timeline